Since 1979, Vancil Performing Arts Center has provided a warm, inspiring atmosphere for dancers of all ages and levels. Dance classes are a valuable experience for all students. Experiences in class will be a source of pride and accomplishment for the dancer.
In addition to the physical skills acquired, students are exposed to artistic expression through dance, while learning and enjoying various musical elements, an integral part of dance education. Beyond individual benefits, students learn to work within a group to achieve a common goal, essential to successful group performance.
Last, but not least, our students have fun! Many friendships and good memories are a product derived from children of similar age and interests spending time learning in a pleasant and active educational environment.
WHY CHOOSE VANCIL FOR MUSIC LESSONS?
Here are just a few reasons why Vancil Performing Arts Center is the best choice for your family!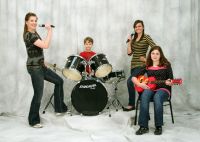 We Focus On Teaching
All we do is teach. We do not sell or rent instruments of music. This leaves us free to specialize in one thing - providing the highest quality of music instruction.
Our Music Instructors are University Trained
Our instructors are highly qualified and many have extensive performance experience. Most importantly, our instructors strive to relate their teaching to each individual student's learning style.
Classes are Available for All Ages and Skill Levels
Our current students range from 6 years old thru adult. We take care to teach what you want to learn so music is rewarding for students of all ages and level.
We Offer Private Music Lessons
Private lessons ensure that the student has the undivided attention of the teacher and can progress at a level suited to them individually.
Students Participate in Regular Concerts and Recitals
Recitals and concerts are held at least once a year. These provide students with performance experience and build confidence.
We Offer Theory Classes
Classes are taught in preparation for exams.
WHY CHOOSE VANCIL FOR DANCE LESSONS?
Smaller Class Sizes
Our smaller class sizes allow students to get more individual instruction from teachers, and as a result progress at a faster level than in a large class environment. Our smaller class sizes also ensure that the teacher can catch any problems before they turn into bad habits or improper techniques.
Variety of Dance Styles & Methods
Highly qualified teachers with varied training and teaching methods are available to teach a broad range of dance formats.

Our Dance Studio Advantage - The "Floating" Professional Dance Floor
Our "Floating" Dance Floor rests on a system of high density foam to absorb the shock and impact of regular dance movement. This benefits students by reducing fatigue and preventing injury that can result from dancing on hard surfaces.